---
MPHA on Facebook and Twitter
From 7/10 to 8/14, free COVID-19 tests will be available to any MA resident at 8 sites, including Chelsea, Lawrence, & New Bedford, with no symptom requirement. This is a good start, but we need more! "It should go beyond just those places that had a bad surge in the beginning. There are a number of other locations around the state that one could anticipate might be in trouble if there's a second surge," said Dr. David Hamer, Prof. of Global Health and Medicine at BU. www.bostonglobe.com/2020/07/08/metro/baker-announces-new-free-coronavirus-testing-8-hard-hit-mass... ... See MoreSee Less
With details for Lawrence residents and non-residents including appointments and doctors notes
Load more
Today marks the 4 month anniversary of the declaration of emergency.

✅Extend the eviction moratorium.
✅Expand sick time.
✅ Extend the session.

#mapoli


Keeping Workers Safe During COVID & Reopening
July 6 marks Phase 3 of Republican Governor Charlie Baker's reopening plan. That means that movie theaters (??), casinos (??), and gyms (??!?) are all...
actionnetwork.org
Today the @MASENATEGOP blocked debating @MA_Senate S2800 #RacialJustice bill again. After Senator @RyanFattman delayed the bill, Senator @SoniaChangDiaz, co-author of S2800, gave an impassioned speech on why Black and Brown people cannot wait. It's time
#BlackLivesMatter #mapoli
Twitter feed video.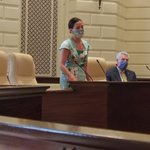 Dr. William Agel (Chief Medical Officer, Cape Cod Healthcare) makes the case for the #MaLeg to pass Emergency Paid Sick Time:

"Now the advice to workers is 'If you're not feeling great, stay home.' A lot of workers have no sick time at all, so how can they stay home?" #MaPoli
While we continue to wait for Beacon Hill to take up Emergency Paid Sick Time legislation, new data shows Black Barnstable County residents contracted COVID-19 at a rate 3x as high as white residents. #PaidSickTimeNow is a matter of racial justice

COVID-19 Data Among Black Cape Residents Underscores Need For Emergency Sick Time
The local disparity mirrors a national trend: people of color are more likely to become infected and to die from the disease than white Americans.
www.wbur.org
Eviction is a public health issue #2: Today, @MAPublicHealth is urging the Housing Committee to move swiftly to pass S2785 + @MassGovernor to support emergency right to counsel for low-income residents. @RepKevinHonan @BrendanCrighton #MassRight2Counsel #mapoli @MassLawReform
Load More...
---